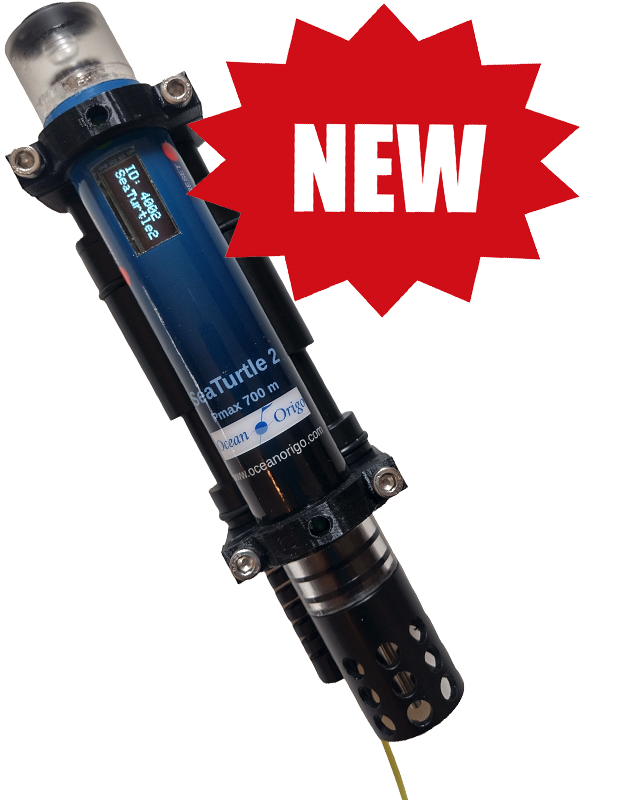 SeaTurtle
Add-on unit for water sampling bottles.
Samples temperature and depth.
Ocean Origo's SeaTurtle is an accurate, mercury-free electronic thermometer. It is cost-efficient, battery powered, microprocessor-controlled and designed for operation down to 500 m depth. Instrument fits on virtually all types of water sampling bottles, detects when the bottle releases and samples water temperature and optionally also water pressure/depth at release depth. Data is presented on a back-light display.

SeaTurtle may be set to operate in two sampling modes:
• Turn-around - SeaTurtle detects when bottle turns around.
• String - SeaTurtle detects when bottle releases.

The operator controls SeaTurtle using a small handheld permanent magnet. Instrument can be programmed to enter turn-around mode, string mode, sleep mode, continuously update current temperature/pressure value on the display, show last temperature/pressure registration, etc. SeaTurtle runs on a single ordinary 9 V alkaline or lithium battery cell, easily replaceable by the operator.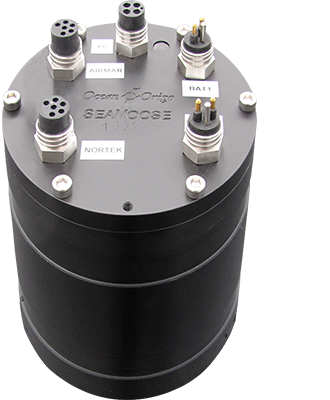 SeaMoose Mini
Small powerful cost-efficient MetOcean data logger.
With remote communication.
Ocean Origo's SeaMoose Mini is a very compact and powerful met-ocean logger/controller with remote communication capacity. It is flexible, cost–efficient and also extremely rugged. Waterproof down to 200 m depth it may be mounted on all sorts of buoys, platforms, etc. SeaMoose may interface a great number of sensors from well-known manufacturers like SeaBird, Nortek, AirMar, etc. SeaMoose may also connect to an inductive modem (SeaBird) for underwater communication with sensor string. Customer selects sensor suite - Ocean Origo may assist in the choice. SeaMoose samples parameters like salinity, temperature, air pressure, wind, waves, oxygen and much more. Data is stored on internal flash card (removable) and also transmitted wirelessly as e-mail or optionally to www server environment. Its small size, smart design, great flexibility and field-swappable character allows for rational and rapid field service also from small vessels, a key parameter for achieving low running costs in many applications.

SeaMoose comes in 2 different power supply versions: 'SeaMoose-EP' without internal batteries and thus relaying on an external power source and 'SeaMoose-IP' equipped with internal batteries. A GSM modem (optionally Iridium satellite modem) is included for airborne 2-way communication. Depending on application/customer's choice, antenna may be integrated in the SeaMoose unit or alternatively connected to SeaMoose via cable. An 'easy-to-use' PC-program is included in the purchase which significantly simplifies instrument management and allows for system tests, parameter configuration, etc. Day after day, month after month, SeaMoose will deliver high quality, cost-efficient data.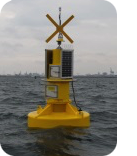 Turn-key data buoy systems
Complete turn-key data buoy systems.
Including battery, solar panels, sensors, mooring, etc.
Ocean Origo offers, in cooperation with Navigationsteknik AB, complete turn-key data buoy systems according to customers specification. We supply rugged reliable data buoys for open oceans, coastal zone, near-shore, fjords, harbours, universities, authorities, mussel farms, oil companies and more. Buoys that deliver near-real-time data of salinity, temperature, current, waves, wind, GPS, oxygen, air pressure and many other parameters. Customer selects sensor suite - Ocean Origo may assist in the choice. Thanks to the flexibility, small size and portability of SeaMoose – the electronic key unit - we can use the same basic concept for all sorts and sizes of data buoys. SeaMoose's field-swappable character allows for rational and rapid field service also from small vessels, a key parameter for achieving low running costs in many applications.

In cooperation with Navigationsteknik, Ocean Origo offers fully equipped data buoys ready for deployment including all necessary components like battery bank, solar panels, nautical equipment, GPS alarm, etc. We also offer complete mooring solutions and mooring components including SeaFlex system for minimizing mechanical mooring stress, customized www-interface and management. Finally, we offer installation, service, operation and surveillance of buoy systems. In short – we can do it all.
Expertise consulting within Oceanographic engineering and green tech: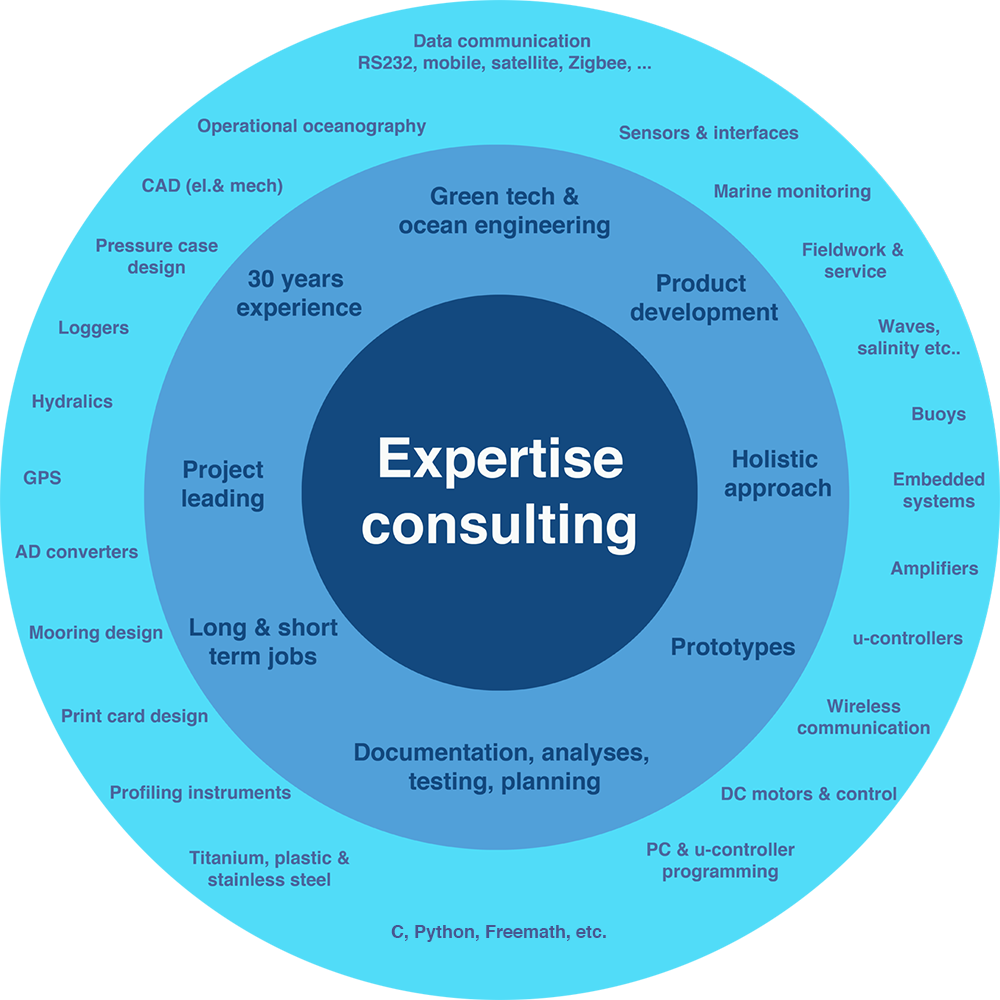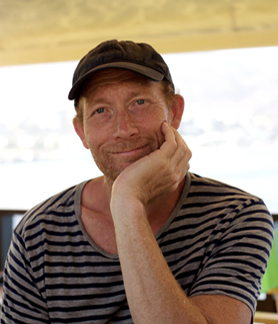 "I offer expertise within Oceanographic instrumentation, measurements and engineering. I have a broad and long experience and master electronics, programming, mechanics, project leading and much more. Don't hesitate to contact me."
Sverker Skoglund
Some of our customers:
SMHI
Göteborgs University
Umeå University
Kungliga Tekniska Högskolan (KTH)
Bergen University, Norway
Applied Physics Laboratory, Seattle
Copenhagen & Malmo Port
Various companies like ORC AB, Navigationsteknik, Smedlunds, Astra, IKEA, etc.
Some consulting references:
Oceanographic consulting for SMHI, Sweden: Oceanographic measurement expert. Managing ODAS buoys, profilers, sensors, etc. 3 years.
Green tech consulting for Smedlund/IKEA: Project leading and technical development. Developing Food Waste Machine for households. 3 years.
Fixed price prototype development for ORC AB/NOFO: Developing novel current meter logger system with 8 current meters, logger and Zigbee transmitter including PC interface for testing oil spill containment boom systems.